The pro-life movement is often under ideological attack. Sadly, sometimes pregnancy centers working to promote and empower the choice of life suffer physical attacks and vandalism as well. In July of this year, Pregnancy Counseling Center in Mission Hills, California experienced a physical act of vandalism.
As she wondered who could have done such a thing, Edy thought maybe it was someone who had been hurt by an abortion.
The center's executive director, Edy Bernal, went to open the doors of the center on Monday, July 27, and was shocked to see the photos on their windows had been graffitied with red paint made to resemble tears of blood.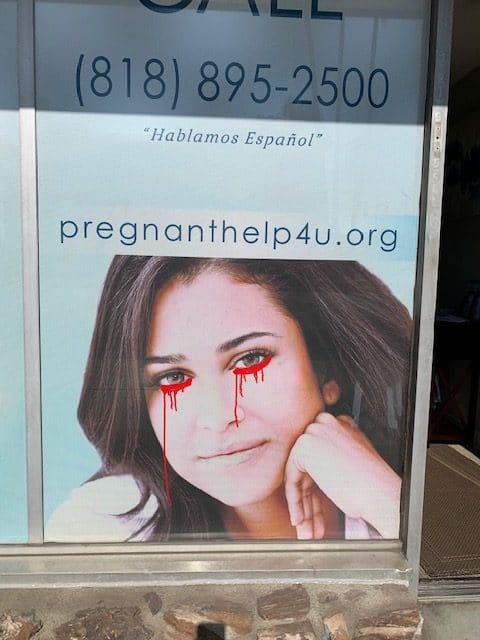 "…was it someone that hurt so badly from a previous abortion in their own life," Edy wondered, adding that, "From the images you can see there [are] tears, unresolved grief, pain, pain that is unspoken of—I wonder for how long."
Edy said that the vandalism to the center on Sepulveda Boulevard must have occurred over the weekend.
The center is across the street from a Family Planning Associates facility that offers surgical and non-surgical abortion, according to their website.
Edy said her center went to the police, but due to COVID-19 they were not allowed into the police department. The police said there was nothing they could do unless they had some sort of camera footage. "They would not even take a report. On a normal basis when issues have occurred they will at least write a report and patrol the area," Edy said.
The window wraps that were vandalized could be washed off with a graffiti cleaner, she added, but unfortunately the paint went through the wrap and the vinyl, which they will not be able to repair unless they remove the wrap. They are in the process of getting a quote for the inside stain, Edy said, and any financial help is appreciated.
This isn't the first time that a pregnancy center has been vandalized. A year ago, NIFLA reported about a center in Culpeper, Virginia that was also a victim of graffiti.
Edy has been intimately involved with supporting mothers and babies ever since she first volunteered at the center as a single mom when she was 18 years of age. Since then, she rose through the ranks and went on to become the executive director of the center 3 years ago.
Edy is no stranger to controversy. Her center was subjected to the unconstitutional AB-775 Reproductive FACT Act, which was struck down in NIFLA v. Becerra.
"As you may know, the [center] in Mission Hills was one of the first clinics that got hit with a notice to comply with AB-775 or be shut down," Edy said. "We stayed open and thankfully hopped on board with NIFLA. When the bill went to the Supreme Court in D.C., my board felt it was important to be present at the steps of the Supreme court to support the NIFLA team… it was an honor to be there."
Edy said that the last three years have been challenging for her, but she always tries to remember that "God placed me here and He will help me overcome these hurdles."
NIFLA envisions an America where all life, born and unborn, regardless of age, handicaps or infirmities, is cherished and protected under the law. To learn more about Birth Choice and their mission to serve women, please visit their website.
To learn more about what NIFLA is doing to help protect and equip pregnancy centers so they can reach abortion-vulnerable mothers and families, please visit NIFLA's "About" page on nifla.org. To partner in NIFLA's 2020 vision to expand training, fight threatening legislation and update critical resources, please visit NIFLA's donate page.
This original blog post was written by Olivia Briscoe, a pro-life journalist and media professional. All rights are reserved. Please email the NIFLA media team at media[email protected] for interview requests or reprint permission.